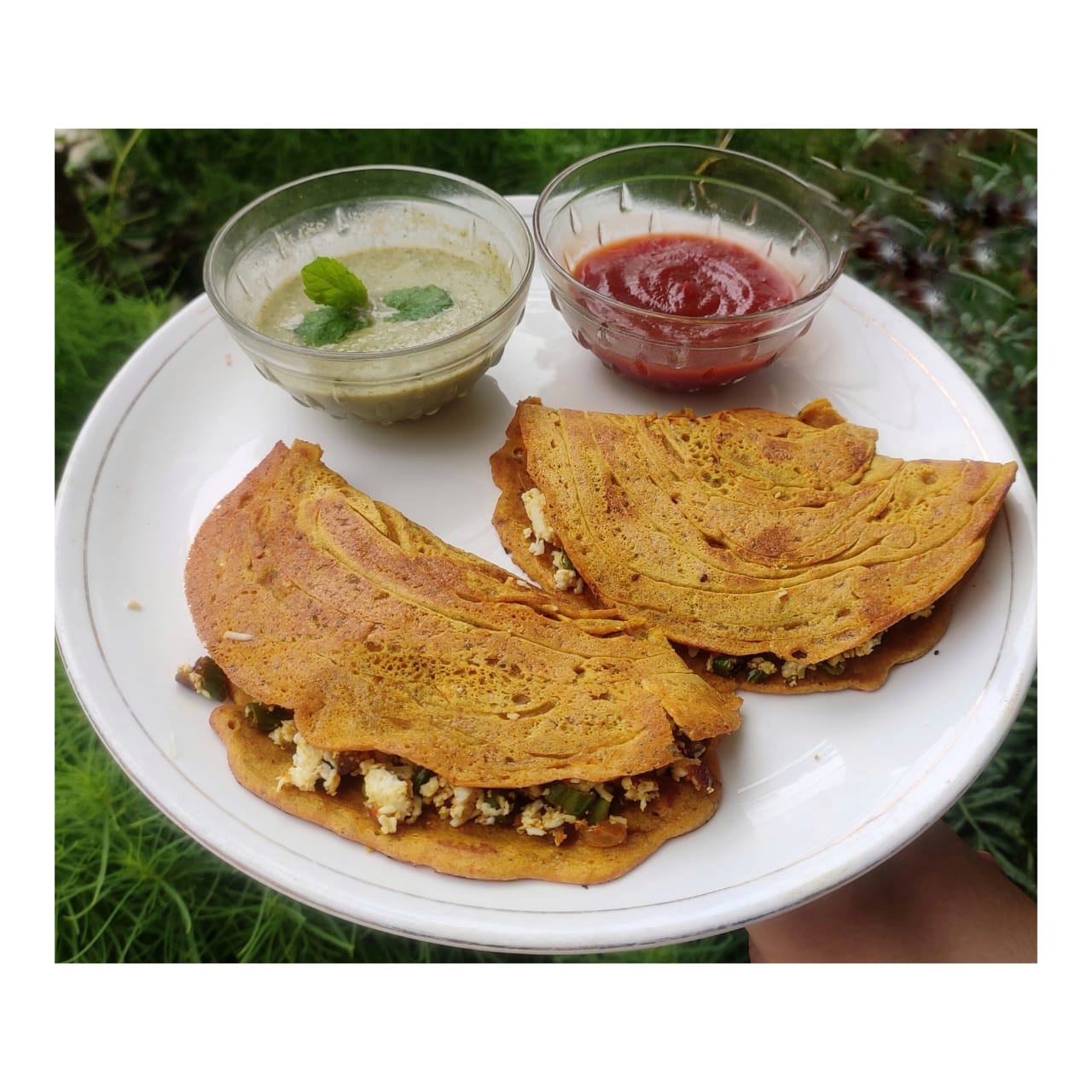 Easy and tasty breakfast recipe of paneer stuffed cheela. It is a great meal for breakfast or perhaps as a snack for kids as it supplies all the required nutrients.This is a very delicious, nutritious and appetizing dish made with besan and stuffed paneer( with veggies stuffing ). For any tasty cheela, the batter has to be neither thick nor thin and has to be somewhere in between like a dosa batter. Adding veggies to the paneer stuffing is completely open-ended and you can add as per your preference but ensure that these veggies are finely chopped and do easily make nice and mushy stuffing. lastly, try to use freshly homemade paneer while cooking the paneer stuffing.
Ingredients Of Besan Chilla:
1 cup besan / gram flour
½ tsp salt
¼ tsp turmeric
½ tsp kashmiri red chilli powder
¼ tsp ajwain / carom seeds
1 tsp black pepper
1/2 cup water
oil
FOR STUFFING:
2-3 tsp oil
1 tsp ginger paste
¼ cup capsicum, finely chopped
¼ cup beans, finely chopped
½ onion, finely chopped
¼ tsp turmeric
½ tsp red chilli powder
½ tsp pepper, crushed
½ tsp salt
¼ tsp garam masala
2-3 green chillies
1 cup paneer crumbled
2 tbsp coriander, finely chopped
How to Make Paneer Besan Chilla
Preparing the batter for besan cheela :
Take besan in a mixing bowl.
Take besan in a bowl, add salt, black pepper, carom seeds, red chili powder, turmeric powder, and coriander leaves.
Mix all the ingredients together in the bowl along with 1/2 cup water to make a mixture.
Mix it well. Add more water to make its consistency light.
Depending on the quality and texture of besan, addition of water will be more or less.
The batter for making cheelas is now ready.
Preparing paneer stuffing for the cheelas :
Add 2 tsp of oil in a pan.
Add onion and saute on medium flame for few seconds.
Then add ginger paste and green chillies.
Saute till the raw aroma of ginger goes away.
Now add beans, capsicum, and other ingredients.
Stir constantly. Do not overcook the vegetables.
Transfer the cooked vegetables in a bowl or plate to cool them down.
Now add grated paneer and coriander leaves over these veggies.
Mix it thoroughly and keep aside.
Making stuffed cheela :
Now take a pan and put some oil over it and spread it evenly.
Then put some amount of the besan mixture to pan fry it.
Spread it with the back of the ladle in a circular motion spreading outwards.
Spread a tsp of oil around the corners.
Cook the cheela till it turns solid, crispy and golden brown (about 2-3 minutes).
Continue roasting the cheela until it gets brown spots on the other side as well.
Reduce the flame and place 2-3 tbsp of stuffing in one side of the cheela.
Give it a fold and transfer the cheela to the plate.
Serve Paneer Stuffed Besan Cheela along with green chutney or red chilli chutney.
You can add vegetables of your choice to make it more nutritious and tasty.
Notes
Always cook in medium flame for crispy golden chillas.
Use fresh paneer only.
Paneer quantity can be varied as per how much you want it stuffed in the chilla.
You can add veggies according to your taste to make it more nutritious and healthy.
For more such posts follow and like us @fitwithpro on Instagram.