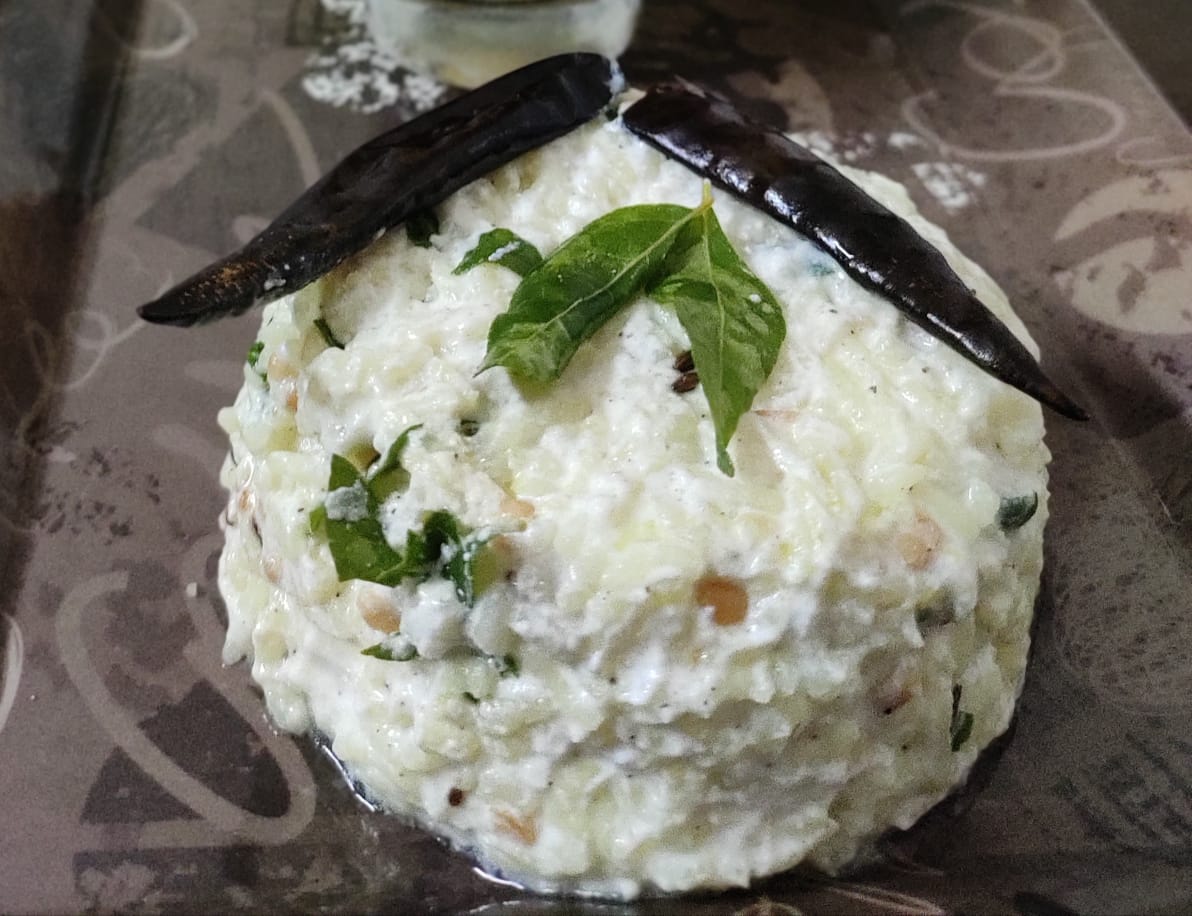 Curd rice is a south Indian dish. It is also known as Thayir Saadam in Tamil and Daddojanam in Telgu.
Simple Curd Rice can be prepared with steamed rice and plain curd with additional tempering of urad dal, mustard seeds, chilies, coriander leaves, and steamed rice. It does not take more than 20 minutes to cook and can be prepared with very little effort. This recipe is an ideal Bachelor's recipe which is satiating and refreshing, with its cool flavor and homely aroma.
Curd is a great source of probiotics. Curd rice is the best meal to eat for indigestion or diarrhea. Consuming curd rice helps to restore healthy microbial balance which, in turn, helps in better digestion. Rice helps bulk up stools and relive diarrhea as well.
Ingredients:
1/2 cup Raw Rice or 2 cups Cooked Rice
1 cup Curd (Yogurt)
1 teaspoon black pepper
2 tablespoons finely chopped Coriander Leaves
Salt to taste.
For Tempering:
1 tablespoon sesame oil
½ teaspoon mustard seeds
1 Dry Red Chilli, halved (or 1 Green Chilli)
½ teaspoon urad dal (husked and split black gram dal)
5 to 6 curry leaves
⅛ teaspoon asafoetida (hing)
Method
Rinse the rice in water for 3-4 times and drain excess water.
Add rice, 1.5 cups water, and salt in a 2-liter pressure cooker.
Close the cooker with a lid and pressure cook the rice for 4-whistles or 8 to 9 minutes over medium flame or until the rice turns soft.
The rice has to be softer than what we cook on a daily basis. Turn off the flame and let the pressure comes down naturally.
Open the lid and let the rice cool down at room temperature.
Now, add 1 cup of fresh curd. Add black pepper and salt to it. Mix gently.
Tempering For Curd Rice
Heat a small pan or tadka pan and add 1 tablespoon sesame oil in it. You can use peanut oil or sunflower oil instead of sesame oil.
When the oil becomes hot, add ½ teaspoon mustard seeds.
Let the mustard seeds begin to crackle.
When the mustard seeds begin to crackle, then add ½ teaspoon urad dal and red chili.
Stirring often fries the urad dal. Let the urad dal become golden.
Then add curry leaves (chopped) and asafoetida (roughly 2 pinches of asafoetida). Mix and switch off the flame.
Immediately pour the tempering in the curd rice mixture.
Mix very well. Now the curd rice ready to be served.
Benefits
Curd is rich In proteins, good fats, minerals and thus excellent for vegetarians.
It is also a good antioxidant and has high contents of calcium.
Curd rice is beneficial for premenstrual cramps as well as it is a good source of magnesium and potassium, which helps reduce stomach cramps and pain.
The friendly probiotic bacteria present in the curd help in the digestion. The curd in curd rice is rich in probiotics that promote the growth of healthy gut bacteria thus relieving constipation and abdominal pain triggered by it.
The probiotics in curd help improve immunity and make the body capable of fighting diseases.
Curd rice is a good meal to indulge in when you're attempting to lose weight as a bowl of curd rice can fill your stomach and keep you from snacking.
Note
Avoid having curd which has become too sour.
Avoid having curd in the night as it increases mucus.
Use fresh curd or yogurt.
Do not heat curd as it destroys the friendly bacteria present in it.
Curd rice can be made with leftover rice or rice which has been precooked earlier.
For vegan curd rice, use coconut milk yogurt or cashew milk yogurt or almond milk yogurt.
Nutrition Info (approximate values)
Amount Per Serving
Calories – 230 Calories
Fat – 8g
Saturated Fat – 2g
Cholesterol – 12mg
Sodium – 104mg
Potassium – 200mg
Carbohydrates – 31g
Fiber – 1g
Sugar – 6g
Protein – 6g
Vitamin A – 240IU
Vitamin C – 68.5mg
Calcium – 148mg
Iron – 0.3mg
You can consume this recipe morning or evening whenever you feel hungry.
Check out more such post at fitwithpro.com
Follow us and like us @fitwithpro in Instagram