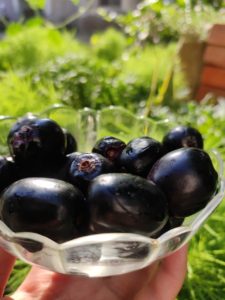 The blueberry is an antioxidant rich superfood. Blueberries are sweet, nutritious and wildly popular, they are low in calories and incredibly good for health.
Blueberries are small but mighty." Blueberries are easy to incorporate into a healthy eating regimen by incorporate them in any prepared meal like cereal, on top of plain yogurt/ curd, in oatmeal, in baked products or just eating them plain. "Blueberries are a great choice because there's so much benefit that comes from eating such a small amount.
Nutritional highlights-
Blueberries are low in calories.It consist of 14% carbohydrates, 0.7% protein, 0.3% fat and 84% water. They contain only negligible amounts of micronutrients, with moderate levels (relative to respective Daily Values) (DV) of the essential dietary mineral manganese, vitamin C, vitamin K and dietary fiber. Generally, nutrient contents of blueberries are a low percentage of the DV. One serving provides a relatively low caloric value of 57 kcal with a glycemic load of 6.
This tiny fruit also rich in anthocyanins, other polyphenols and various phytochemicals. Blueberries also contain copper, beta-carotene, folate, choline, vitamins A and E.
Blueberries contain a diverse range of phenolic compounds such as quercetin, kaempferol, myricetin, and chlorogenic acid. These contribute to the antioxidant capacity of blueberries.
Health benefits-
1. Blueberries Reduce DNA Damage, Which May Help Protect Against Aging and Cancer.
2.The antioxidants in blueberries have been shown to reduce a predominant risk factor for heart disease by preventing oxidative damage to "bad" LDL cholesterol as well as very beneficial for people with high blood pressure.
3. Blueberries appear to benefit aging neurons, leading to improvements in cell signaling. Thus, improve Memory and maintain brain function.
4. Anthocyanins in blueberries have beneficial effects on insulin sensitivity and glucose metabolism. Improved insulin sensitivity should lower the risk of metabolic syndrome and type 2 diabetes.
5. Blueberries contain substances that can prevent certain bacteria from binding to the wall of your bladder, which may help prevent UTIs.
6. Blueberries contain iron, phosphorous, calcium, magnesium, manganese, zinc, and vitamin K. All of these are component of bone. Consuming blueberries contributes to building and maintaining bone structure and strength.
7. One cup of blueberries provides 24 percent of the recommended daily allowance of vitamin C. Collagen is the support system of the skin and it relies on vitamin c as an essential nutrient. So, consuming blueberries also improve skin health.
8. Because of blueberries fiber content it is very help to prevent constipation and maintain regularity for a healthful digestive tract. High fiber foods increase satiety, or the feeling of being full, and reduce appetite.
Note-
People who use blood-thinners, such as warfarin, should speak to their doctor before increasing their intake of blueberries, as the high vitamin K content can affect blood clotting.
Follow and like us @fitwithpro in instagram.